Messy Messy Fail - Two weeks ago - we had two cold days off from school and then on the Friday I attended a music educators' conference. In other words, I did not teach at work for three consecutive unplanned days. Let's just say I don't do well when I diverge from my typical schedule - I could NOT get myself together at the beginning of this past week. That change threw me so bad - I could barely form cohesive sentences and give instruction. This just proves that I certainly am a creature of habit.
Tidy Victory - With all of the items I donated to the Salvation Army throughout 2018, we have so much more room in the house to store things properly, it's actually quite amazing. It's nice to have room to live and not have "stuff" everywhere! When was the last time you go ride of stuff?????
Welcome to the party! I hope everyone survived the cold last week. It is just hitting us here in Southern California after 4 days of rain. It is nice to see the sun, but it is so cold my 10 year old actually put on a sweatshirt without arguing! Our features from the amazing posts shared at last week's party are "I'll take Potpourri for 1000, Alex", a little of this and a little of that. I hope you take a moment to visit the featured blogs and our hosts too. ~Audrey from Munofore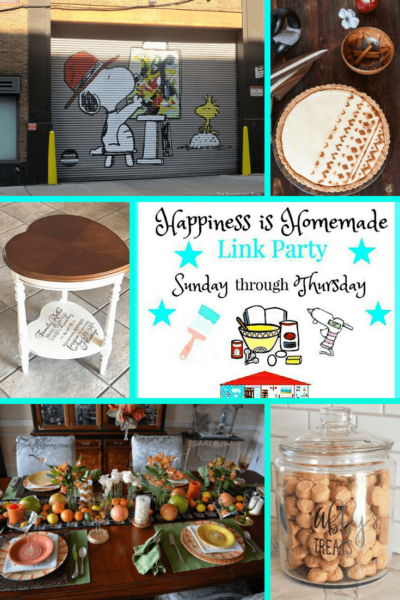 All That's Jas shared this lovely South African No-Bake Milk Pie. I fell in love with the pretty cinnamon sprinkle on top (and the pie sounds delicious).
Happiness is Homemade Link Party #257
While you are here, we'd love it if you would visit the blogs of our lovely co-hosts!
FOLLOW OUR PINTEREST BOARD!
The rules?
They are really simple! Make sure you visit a few other blogs and make some new friends along the way. Feel free to link up your favorite recipes, crafts or your latest DIY project. We want you you share it all! As always, please make sure to follow your hosts and co-hosts!! Link up your posts, make some friends, and earn the chance to be featured at Happiness Is Homemade Link Party! We will feature the favorite posts each week!
Disclaimer: Adding your link to this link party gives permission to all 9 Hosts, along with any co-hosts, guest hosts, and participants of Happiness Is Homemade, to share your posts and pictures via social media and as features, roundups, etc. with an explicit link back to your original source. Therefore, linking up you agree to allow us to use your images on each of our blogs in features relating to Happiness is Homemade Link Party.